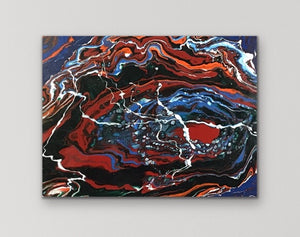 Gamer's Impulse Abstract Art Acrylic Pour Painting 
Let the games begin! Inspired by an avid gamer, this piece brings forth the imagination. It is shrouded in mystery and action. See the futuristic universe; imagine the danger; marvel at the electrical currents as they streak past you. Enter the mind of a gamer.
Acrylic pour painting 
Stretched deep edge canvas
20" x 24" x 1.5"
Louisiana artist CJ Collins Jr
please allow 2 - 3 days additional processing time