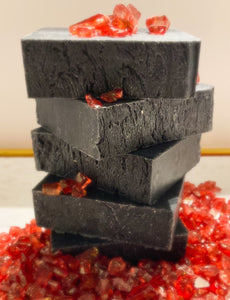 Peppermint Tea Tree with Activated Charcoal
Loads of activated charcoal, combined with a Peppermint and Tea Tree Essential Oil blend, are incorporated into our 85% Organic Ingredient Soap Base for maximum cleansing impact, said to draw out impurities, dirt, and oil from the skin.
Soap bars vary in size and come unlabeled as pictured. Bars may be sliced from center of loaf or soap ends. 
Saponified Oils (Organic Palm Oil**, Organic Coconut Oil*, Organic Sunflower Oil, Organic Extra Virgin Olive Oil), Peppermint Essential Oil, Tea Tree Essential Oil, Activated Charcoal.
Vegan, 83% Organic, All Natural
**Fair Trade, Sustainable-Palm Done Right, *Fair Trade