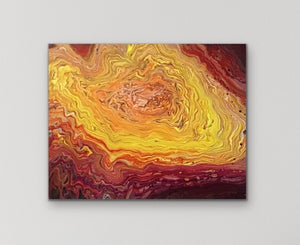 Acrylic Pour Painting - The Fire Within
Churning, burning, twisting about; No one knows its secrets. What can put out this burning fire? What can extinguish the fire within?
Abstract acrylic art pour painting created with the colors of a churning , fiery flame. It brings to mind the fiery center of the earth, molten lava, the depths of a volcano.
Louisiana artist LaKeisha Collins
Acrylic pour painting on deep edge stretched canvas
16" x 20" 1.5"
please allow 2 - 3 days additional processing time